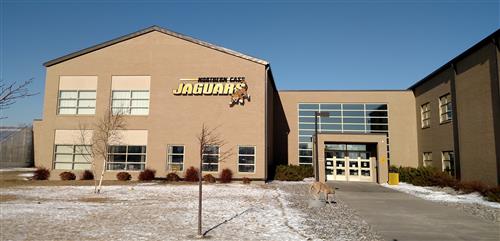 Here is a little history about Northern Cass
During the 1995-96 school year, the Cass Valley North and Dakota school district board worked together to develop a reorganization plan. This plan would include the towns of Argusville, Arthur, Gardner, Grandin and Hunter, The reorganization plan laid the groundwork for plans that would change the way educational services would be delivered in Northern Cass Count. The new building area would be 80 acres, 3,484,800 square feet. The reorganization plan was approved by both boards during the summer of 1996.
The November 5, 1996 vote for reorganization of the former Cass Valley North and Dakota school districts was passed by an overwhelming 78.8% margin of the voters.
Shortly after its approval, board members, teachers, students and patrons embarked on a journey that would entail many meetings, complex transportation schedules and juggling of staff and students rarely seen. Throughout the completion of the three-phase plan outlined in the reorganization plan, students, teachers, administrators, board members and patrons were understanding, excited, at times confused, but always mindful of what the benefits would be at the end of the journey.
A three-phase plan which stated in Phase I (1997-1998), grades K-6 would remain in the Grandin and Hunter school. Grades 7-9 would be in Argusville and grades 10-12 would be in Arthur. Phase II (1998-1999), after passage of the building bond issue, would find grades k-6 remaining in their respective buildings, but the Argusville site would be closed and all students in grades 7-12 would attend classes in Arthur. Phase III (1999-2000) stated that we would be in a new K-12 building, centrally located along Cass County 26 (Bell or Gunkle township).
The new school is named Northern Cass School District #97.